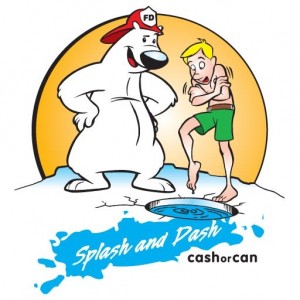 2021 Splash and Dash Polar Plunge Update:
We have received several messages over the last couple weeks inquiring about the status of the 2021 Splash and Dash. Unfortunately the City of Racine Parks, Recreation and Cultural Services Department has denied our permit application due to the revised Safer Racine Ordinance. The revised ordinance does not allow mass gatherings/special events at public venues which includes North Beach. The staff of Racine PRCS has been a great supporter of the Splash and Dash Polar Plunge and while disappointed we understand why they were unable to grant the permit.
Still Wish to Donate?
The Splash and Dash Foundation is a registered 501(c)(3) and has raised nearly $250,000 for local charities over the last 30 years and we ask our friends to please support them during these difficult times. You can send your donations directly to the Racine County Food Bank, H.A.L.O or the Hospitality Center. You may also send your donation to the Splash and Dash Foundation and the contributions will be distributed equally among the listed charities.
Mailing Address:
Splash and Dash Foundation
8348 Corporate Drive
Mt. Pleasant, WI 53406
Checks payable to:
Splash and Dash Foundation
For questions please contact:
Jason Greenwood
info@splashanddashracine.com
262-886-4170