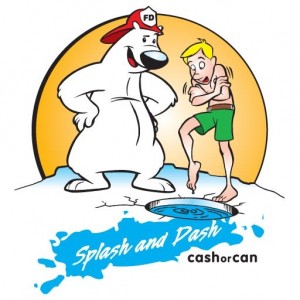 Get Your Swimsuits Ready!
The 2020 Splash and Dash is scheduled for Jan. 1, 2020, 12:00 noon at Racine's North Beach. We are excited to announce The Racine Yacht Club is hosting the event and will be open to the public starting at 9:00am. The Racine Yacht Club has a spacious facility with a perfect view of the jump and many TV's to watch the football games. RYC's full bar and restaurant will be a great place to enjoy New Years Day both before and after the jump. Participants and spectators are encouraged to bring their families. This event is once again collecting food and raising money to support local Racine charities. This year the event will benefit the following organizations: Racine County Food Bank, H.A.L.O., Hospitality Center and Kiwanis Club Scholarship Program.
Check here for valuable safety tips.
Pledge Forms
Download and complete the pledge form using the link below.
Arrive early at North Beach for good parking and a cup of hot chocolate (provided by Kiwanis). This year T-shirts will be available with a minimum $10 donation (no wristbands will be handed out and no waiting in line to redeem them for shirts)
If the jump is cancelled (which is highly unlikely) it will be posted on this website no later than 10:00am on New Years Day.
Jumpers who collect $150 or more will receive a SPLASH AND DASH beach towel before the jump. All proceeds collected should be turned in on January 1st.